TravelBlog
If nature and adventures are two basic things that excite you, then TravelBlog - a free WordPress theme is handcrafted especially for you. Fresh blue design is perfect for travel agencies, trekking companies or those who is in mountaineering business. The premium WordPress theme comes with the responsive web design that is much appreciated by visitors who are always on the move. Usability of the theme will bring popularity to your website and also keep customers coming back. All that you need is download TravelBlog and install on your website.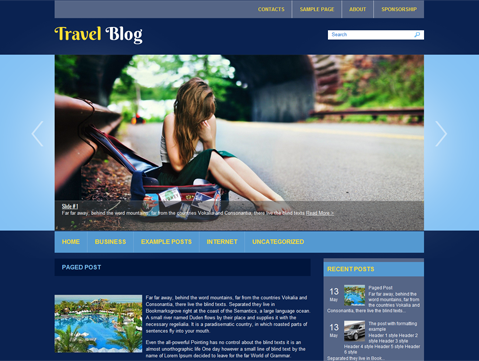 Theme Features:
* SMT Framework 2.0
* Dynamic Content Loader
* Custom Sidebars
* Google Maps Shortcode
* Responsive Web Design
* Custom Widgets Ready
* Social Share Bar
* Shortcodes Ready
* Contacts Page
* Translation Options
* Slider Ready
* SEO Optimization
* Compatible with latest WordPress versions
* Custom Menus
* Antispam without Captcha
* Multicolor Related Posts
GameBlog
GameBlog is a very special free WordPress theme with an exciting design in green and blue. It is simple and effective platform for the website creation with a wide range of capabilities and advanced features. With the use of this premium WordPress theme you may build an efficient and high-quality game blog, online magazine or e-selling website from the scratch. You could only dream about the professionally developed responsive web design along with the WooCommerce plugin support and custom layouts. Create a unique website with the GameBlog theme.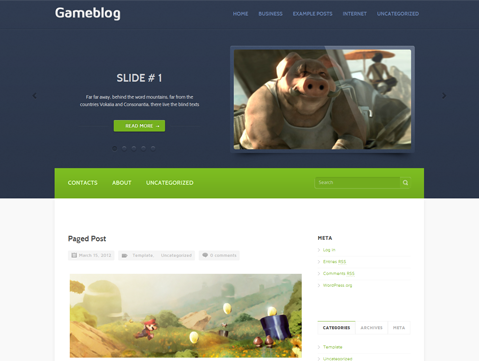 Theme Features:
* SMT Framework 2.0
* Dynamic Content Loader
* Custom Sidebars
* Google Maps Shortcode
* Responsive Web Design
* Custom Widgets Ready
* Social Share Bar
* Shortcodes Ready
* Contacts Page
* Translation Options
* Slider Ready
* SEO Optimization
* Compatible with latest WordPress versions
* Custom Menus
* Antispam without Captcha
* Multicolor Related Posts